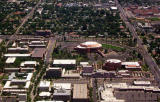 TEMPE ARIZONA REAL ESTATE INFO
TEMPE has successfully blended the fun of lake and golf resort communities, small town atmosphere of a big university, Tempe Town Lake, and cutting edge solar and high tech businesses. Tempe is in the center of the Phoenix Metro close to our international airport, downtown Phoenix and Scottsdale. Home to Medtronic Microelectronics, US Air (American West), Freescale Seminconductor, First Solar and Iradium Communications. Tempe also has major regional offices for JPMChase, Honeywell,and State Farm Insurance.
Tempe Town Lake is Tempe's version of San Antonio's Board Walk (pictured right). Town Lake offers boating, sailing, rowing sculling, and fishing. Walk/Bike routes offer drinking fountains, rest stops, and parking lots. Town Lake is close to ASU, downtown Tempe, Golf , and the 2,000 acre Papago Park. New office buildings and high-rise housing create an active, urban environment for play, work, or school.
Neighborhoods throughout Tempe feature every style home from turn-of-the-century adobe houses to the newer look of stucco and red tile roofs. Many communities are centered around Kiwanis Park, a 125-acre network of parks, lake, and recreational centers. The Lakes is a master planned community of homes, condos, and patio homes on or near a 52 acre man-made lake. Other communities feature golf or horse privileges.
Arizona State University is one of the largest colleges with over 50,000 students. ASU students can easily walk to downtown Tempe or ride on the light rail system. ASU also is home to the Sun Devils' stadium which has been home to several Fiesta Bowls.
The Festival of the Arts draws more than 250,000 people visiting over 500 exhibitors during a 3-day period. Baseball fans can watch spring training at Tempe Diablo Stadium. Other events include the Ironman Triathlon and New Year's Fireworks and Shows at the Tempe Town Lake.
ASU's Tempe campus is located in downtown Tempe Arizona about eight miles (13 km) east of downtown Phoenix. The campus is considered urban, and is approximately 642 acres (2.6 km) in size. The campus is arranged around broad pedestrian malls and is completely encompassed by an arboretum. The Tempe campus is also the largest of ASU's campuses, with 58,371 students enrolled in its programs.
The Tempe campus is ASU's original campus, and Old Main, the first building constructed, still stands today. There are many notable landmarks on campus, including Grady Gammage Memorial Auditorium designed by Frank Lloyd Wright, Palm Walk, which is lined by 111 palm trees, Charles Trumbull Hayden Library, the University Club Building, and University Bridge. In addition, the campus has an extensive public art collection, considered one of the ten best among university public art collections in America according to Public Art Review.
Against the northwest edge of campus is the Mill Avenue district (part of downtown Tempe) which has a college atmosphere that attracts many students to its restaurants and bars. The Tempe campus is also home to all of the university's athletic facilities.
ASU's undergraduate program is ranked 143rd of 262 "national universities" by the 2011 US News and World Report ranking of US colleges and universities; and, for the third year in a row, ASU was ranked as one of the top five "Up and Coming" universities in the US, for substantial improvements to academics and facilities In addition, ASU is ranked 81st in the world by the Academic Rankings of World Universities and was named as one of "America's Best College Buys" by Forbes magazine.
ASU describes itself as "one university in many places", meaning that it is not a system with separate campuses, and not one main campus with branch campuses, ASU's colleges, schools, and departments are spread across four campuses, with each campus hosting a unique set of colleges and schools, and offering both undergraduate and graduate programs. In addition to the physical campuses, ASU includes a fifth "virtual campus" for online and extended education.
heins@heins.com