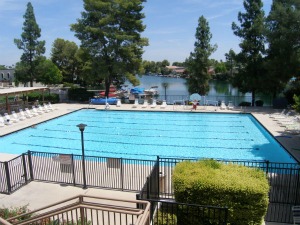 The Lakes Waterfront Community
The Lakes features 52 acres of man made waterways and lush green landscaping. We just celebrated our 40th anniversary as the first waterfront master planned community in the Phoenix area. The Lakes community is unique because residents are required to have tree lined yards filled with lots of greenery.
The Lakes has five and one half miles of shoreline. Other waterfront communities consist of separate lakes. Instead, the Lakes is a single waterway. It takes approximately an hour to fully navigate the lake in electric (only) boats. Kayaks, outriggers, canoes, and sailboats are allowed. The Boating Committee offers Poker Regatta and other social events. The Fishing Committee routinely stocks the lake with large mouth bass, crappie, and other warm water fish so residents can fish from their personal docks or greenbelt docks. In winter, rainbow trout are released.
The Lakes is proud of its "Lakes Beach and Tennis Club". The Clubhouse offers a heated Olympic swimmng pool, large outdoor spa, children's pool and playground, basketball courts, volleyball courts and three lighted tennis courts. Inside the Clubhouse are two gyms, two racquetball courts, saunas, teenagers' game room, and meeting area. The Clubhouse was expanded to create a state-of-the-art fitness center complete with weights, treamills, exercise bikes, TVs plus water aerobics. The Clubhouse has events on most holidays and provides monthly TGIF parties. Other clubs are Lakes Womens Club, Out to Lunch Bunch, Garden Club etc.
The Lakes is close to Kiwanis Park, a 125 acre network of parks, lake, and recreational centers. Many of the Lakes' residents work or study at ASU in north Tempe, one of the largest campuses in America. ASU is near the Tempe Town Lake modeled after San Antonio's River Walk. The Lakes is about 8 miles east of downtown Phoenix and a 15 minute drive to the Sky Harbor airport.
The Lakes has over 1200 homes including condos, gated townhouses, waterfront patio homes, Mission Viejo on/off water single family homes as well as custom homes on the water or nearby. Condo buyers can chose from offwater condos,Lake Park Villas, and on/off water, Sandcastle. The gated townhouses are Village Landing and Harbour Village both of which offer upscale complexes with pools and water features and some with waterfront views. The Coves and The Island (really a peninsula) contain custom single family homes, many of which are on the water. The rest of the single family homes were built by the California developer, Mission Viejo, which include both waterfronts and off water homes.
OASIS WATERFRONT COMMUNITY TEMPE AZ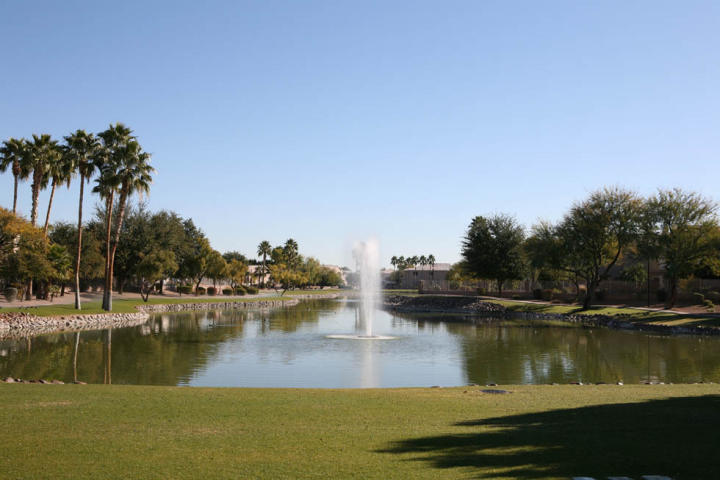 The Oasis Waterfront Community in Tempe AZ is a lovely subdivision featuring a 6.5 acre lake with spectacular fountains in the water. Tree-shaded greenbelts grace the community with benches to sit, enjoy and contemplate the tranquil waters.
A paved .88 mile walking and biking trail encircles the shoreline. It's a great trail for getting a workout or for just a leisurely meander. Anozira parkway, one mile in circumference, offers an alternative workout for joggers and cyclists. The lake is stocked with 5 varieties of fish including bass and crappie. Catch andrelease fishing is allowed.
The homes in the Oasis create an upscale neighborhood that follows classic Mediterranean architectural style with stucco exteriors and red tile roofs. Many homes have updated and remodeled interiors. The homeowners association requires trees and scrubs in the front yards and either grass or well maintained desert landscaping.
The Oasis is a great neighborhood for raising a family since the subdivision is served by the circular Anozira Parkway with only one entrance and thus there are no thoroughfares leading to arterial streets. Kids have lots of places to play. The Oasis is in the highly desired and high achieving, award winning Kyrene School District.
Access to freeways #101 and #60 are quick and easy. ASU is 10 minutes driving to the north as is the renowned Tempe Town Lake. Phoenix Sky Harbor Intl Airport is 15 minutes to the west. Within a three mile radius there are three 18-hole golf courses-Ken McDonald,Shalimar, and Dobson Ranch (rated one of the best in the USA).
Half a mile to the north at McClintock and Gualdalupe are several excellent shopping centers including Fry's supermarket and Trader Joes. Popular cafes are Pei Wei, Wildflower Bakery, Baskin Robbins, and Paradise Bakery, etc. Other popular retailers are Bikram "Hot" Yoga, veterinarian, car wash, and others. Half mile to south is a movie theater and Safeway supermarket.